Dragon Skin? 10 VERY FAST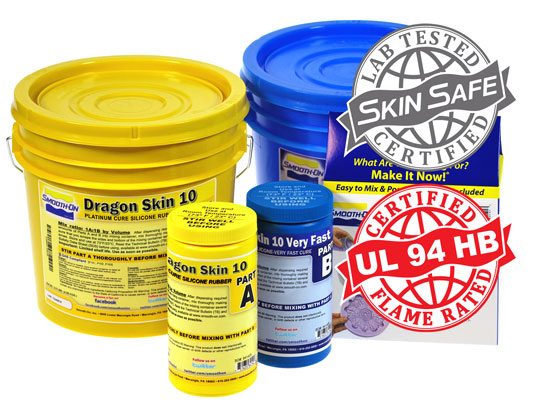 Dragon Skin??silicones are high performance platinum cure liquid silicone compounds that are used for a variety of applications ranging from creating skin effects and other movie special effects to making production molds for casting a variety of materials. Because of the superior physical properties and flexibility of Dragon Skin? rubbers, they are also used for medical prosthetics and cushioning applications. Dragon Skin? rubbers are also used for a variety of industrial applications and have a service temperature range of a constant -70?F to +400?F (-21?C to + 205?C).
Features
Pot Life 4?minutes
Cure Time 30?minutes
Shore A Hardness 10
Great for Making Molds for a Variety of Applications?- Dragon Skin? silicones can be used to make exceptionally strong and tear resistant molds for casting plaster, wax, concrete, resins and other materials.
Time Tested, Versatile Special Effects Material?? Soft, super-strong and stretchy, Dragon Skin? 10 Very Fast is used around the world to make spectacular skin and creature effects. An infinite number of color effects can be achieved by adding Silc Pig? silicone pigments or Cast Magic? effects powders. Cured rubber can also be painted with the Psycho Paint? system.
Cured material is skin safe and certified by an independent laboratory to ISO 10993-10, Biological evaluation of medical devices, Part 10: Tests for irritation and skin sensitization.
Easy To Use?? Dragon Skin? silicones are mixed 1A:1B by weight or volume. Liquid rubber can be thinned with Silicone Thinner? or thickened with THI-VEX?. Rubber cures at room temperature (73?F/23?C) with negligible shrinkage.?Vacuum degassing is recommended to minimize air bubbles in cured rubber.